ULLR BIKE January 12, 2019
GENERAL INFORMATION
This year's course returns to the Gold Run Nordic Center, located at 200 Clubhouse Drive, Breckenridge, CO.
This was the site of Ullr Bike for the first 3 years. The staff at Gold Run are maintaining Fat-bike Dedicated Trails! And they are so awesome that we are going to move our course from the previously announced venue to Gold Run.
We wouldn't make a switch this late in the game unless we were 100% certain that the quality of the experience is improved. In short, we tether ourselves to our #1 Value at Maverick Sports…"Where the Athlete is First"!
RENTALS
Gold Run Nordic Center has Borealis Bikes (nice ones) for rent right there at the venue.
Alpine Sports (City Market Plaza) 970-453-4455
Breck Bike Guides 970-393-9000
Rebel Sports (in Frisco). 970-668-2759
Wilderness Sports (Dillon) 970-468-5687
CLICK HERE for info on the Ullr Fest Celebration!
CATEGORIES
Open Women (All Women, one category)
Junior Men 17 & Under
Amateur Men 18-39
Amateur Men 40-49
Amateur Men 50+
Pro Open Men
REGISTRATION/NUMBER PICK UP
ENTRY FEES:
$30 Adults
$20 Juniors 17 & Under
Option 1-Pre-Register on BikeReg.com through FRIDAY January 11 at 8:00pm
Option 2-Register on-site at the Gold Run Nordic Center beginning at 2:00pm. Registration will be set-up in the Clubhouse.
NUMBER PICKUP, for pre-registered riders, begins at 2:00pm at the Gold Run Nordic Center
DIRECTIONS & PARKING
The Gold Run Nordic Center is located at 200 Clubhouse Drive, Breckenirdge, CO 80424
In the summer this is the Jack Nicklaus designed Breckenridge Golf Club!
There is ample parking! Registration will be set-up inside the Clubhouse!
START TIMES & DISTANCE
Pro-Open Men and Open Women-3:00
All other categories-3:03
Start Line is located out the back of the Clubhouse
Junior Distance 8 Miles
Adult Distance 12 Miles
COURSE MAP & DESCRIPTIONS
Welcome to Ullr Bike! This is the 5th year of the event and we're back to our roots at the Gold Run Nordic Center.
Extra repeat mileage will be added to the course to bring the distance up to 12-13 miles for Adults. This description below is the 8 mile Junior course.
Here's a link to the basic course outline..PLEASE NOTE that the distance is in Kilometers
And here's a map of the entire Gold Run Nordic Center. Fat Bike trails are dotted…see the legend!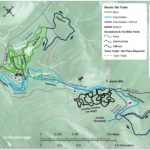 A section of the course is a figure 8 in pattern. Adults will repeat the Dry Gulch Trail section twice…read on for more!
START behind the Clubhouse on Sunset Nordic Trail heading north(We will use the wider nordic trail for the start to give people a chance to spread out)
Cross Clubhouse Drive and access Blue Moon
Ride Blue Moon counter clockwise
At end of loop stay on Blue Moon back toward Clubhouse
Turn right entering Clubhouse and bear left just before the building onto Hoochinoo
Turn left onto Midas Touch
Ride Midas Touch (south leg outbound) to Peabody Placer
Ride Peabody Placer past the Upper Flume Trail to Dry Gulch Trail (Noting Upper Flume here in the description because Juniors will turn right onto Upper Flume 2nd time here and Adults will turn right here their 3rd time here)
Ride through Dry Gulch, climb a bit and then get ready for the rowdy descent of Dry Gulch Trail
At bottom of Dry Gulch Trail turn left and repeat section of Peabody Placer
At Upper Flume Trail Juniors turn right (their 2nd time here) and continue. Adults repeat Dry Gulch Trail section and Turn right onto Upper Flume Trail their 3rd time here.
Upper Flume to Middle Flume to Tom's Baby
Left on lower portion of Peabody Placer (repeat section in opposite direction)
Right onto Midas Touch Trail (northern inbound leg)
Right onto Hoochinoo and finish at the Clubhouse
POST RACE PARTY
Awards inside the Clubhouse at approximately 5:00pm