ULLR BIKE January 12, 2019
GENERAL INFORMATION
For the first time ever, Ullr Bike will launch the Ullr Parade. From Main St. the race will head east into the French Gulch trail network for a great mix of terrain!
LIGHTS REQUIRED as this race will start at twilight and finish in the dark!
CLICK HERE for info on the 55th Ullr Fest Celebration!
CATEGORIES
Open Women (All Women, one category)
Junior Men 17 & Under
Amateur Men 18-39
Amateur Men 40-49
Amateur Men 50+
Pro Open Men
REGISTRATION/NUMBER PICK UP
ENTRY FEES:
$30 Adults
$20 Juniors 17 & Under
Option 1-Pre-Register on BikeReg.com through Wednesday January 10 at 8:00pm
Option 2-Register on Race Day at Napper Tandy's, upstairs above Salt Creek Steakhouse, beginning at 3:30pm
NUMBER PICKUP begins at 3:30 on Race Day at Napper Tandy's.
DIRECTIONS & PARKING
Number Pick-up and day-of registration is located at Napper Tandy's beginning at 3:30pm.
Napper Tandy's is located at 110 Lincoln Ave in Breckenridge
CLICK HERE for a google map
PARKING
There are several parking options in Breckenridge. The Gondola Lot is FREE after 3:00PM everyday.
Parking in the downtown core of Breckenridge is very inexpensive and most easily managed via the Passport Parking App. You can add time to your parking session from wherever you are!
CLICK HERE for Town of Breckenridge Parking information.
START TIMES & DISTANCE
All categories will start at 4:30pm to launch the Ullr Parade!
Start Line is located at the intersection of Lincoln Avenue and Main St…just a half block from Napper Tandy's
Junior Distance 6.5 Miles
Adult Distance 10 Miles
COURSE MAP & DESCRIPTIONS
Welcome to Ullr Bike!
This is the 4th year of the event. The first 3 have been held at the Gold Run Nordic Center. We are excited to bring the race to town (at least for the start) and really make it part of Ullr Fest!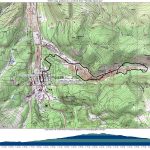 COURSE DESCRIPTION:
Start on Main St. at the main traffic light. Intersection of Lincoln Ave and Main St.
Police Escort, Neutral Start, All Categories
South on Main two blocks to Adams Ave
Left on Adams Ave three blocks to Harris St.
Left on Harris St. three blocks to Wellington Road
Right on Wellington Road. Once Police Car passes High St at the foot of "Wellington Hill" the neutral start is over and the race is on!
At top of "Wellington Hill" turn left onto Gold Flake Terrace. FIRST COURSE MARKING ARROWS HERE ON GOLD FLAKE
Turn left onto Corkscrew Trail (Singletrack)
Bear right almost immediately continuing east on Corkscrew Trail
Sharp left downhill toward French Creek Clubhouse
As you enter French Creek Clubhouse parking area stay right and access French Creek Trail
French Creek Trail all the way to Wellington Road. Crossing a bridge to the north side of French Creek
Turn left onto sidewalk of Wellington Road to Reiling Road
Cross Reiling Road and get on Betty's Trail
Betty's Trail to Gold Run Road
Left on Gold Run Road and climb approx. 75 yards.
Turn right and go through steep up/down continuing on social singletrack trail
Trail ends at French Gulch Road
Left on French Gulch Road approx. 1 mile to X10U8 Trail
Left on X10U8 and climb. Cross Minnie Mine Trail continuing on X10U8 to Reiling Dredge Trailhead parking area
Cross French Gulch Road onto Reiling Dredge Trail
Reiling Dredge Trail ends at Dredge Boat and merges onto B+B Trail
Stay straight/right on B+B Trail and descend to B+B Trailhead parking area
Turn left onto French Gulch Road and descend to Wellington Trail. The Wellington Trail starts at the entrance to Country Boy Mine
Take Wellington Trail all the way to Stable Road, turn right onto Stable Road.
JUNIORS  FINISH FIRST TIME HERE.
ADULTS FINISH SECOND TIME HERE
ADULTS, continue past timing trailer to Wellington Road.
Turn right onto Wellington Road, Cross Reiling Road onto Betty's Trail and complete Main Loop a second time
POST RACE PARTY
After the race we will gather at Napper Tandy's.
Awards at approximately 6:00