WELCOME and STRAVA INFO
2020 Gold Run Series Overall Standings have been tabulated with a new age breakout for women!
Champions will receive Comp Entry into the Summit Mt. Challenge Series this summer.
The Final Race is Saturday, January 30.
This is a Strava-based series. What's that mean? For those of you that raced in the 2020 Summit Mt. Challenge it will be just like that!
For the uninitiated here are some details:
Racers will have the entire day, during daylight hours, to ride a MARKED COURSE. Upload your activity to Strava. We will verify your ride and generate results.
The races may be multi-segment or one bigger segment/course.
All racers will need a STRAVA user profile. If you don't already have a Strava account, there is a free version.
There are two ways to use Strava:
1. Download the App to your phone.
Make sure GPS is enabled
Phone is charged
Make sure Battery Saving mode is OFF
Press Record…and then Start
A rolling start is necessary for accurate timing. Be sure to hit "Record" and "Start" before you go past the Start Sign. And, conversely, ride past the Finish Segment sign before you hit "Stop">"Finish">"Save" (this terminology is Strava specific. We recognize that those riding with GPS head units have different steps and lingo
Strava will match the portion of your ride to our Strava Segment and we'll take it from there.
2. Use a GPS unit from a company such as Garmin, Suunto, Polar.
Ride the segment
Upload to Strava after your ride
Strava will match your Ride to our Segment and we'll take it from there.
Here are a couple of pointers.
For multi-segment races we will total up your time for your final result. This means that there are non-timed sections, Transfers, between segments. You may soft pedal during the transfers, recover, and then go again once you hit the next "Segment Start" sign. If you need to stop after a segment it is suggested that you roll past the "Segment Finish" sign at least 75 feet. And stay away from the next "Segment Start" sign until you're ready to go. If you get too close before you're ready it could trigger a Start for you. If that happens it's still not a big deal. We have tools to dig into the data and see how long you were stationary after the False Start. It is NOT necessary to Start/Stop/Save on Strava for each segment. Simply hit Record/Start before you cross pass the first "Segment Start" sign and keep it rolling until you pass the final "Finish" sign. When you're done press Stop/Finish/Save.
The one thing that can prevent a "match" of your ride to our Segments is if you get off course. That said, the course is well-marked and hopefully you will all negotiate it no problem. Look for Yellow rectangles with Black arrows that have "mavsports" on the arrow.
Have a hiccup on a segment? No problem. You can ride it again!
We ran a bunch of races this summer using this format and it worked great!
GOLD RUN NORDIC CENTER INFO!
Thank you to the Gold Run Nordic Center for hosting this year's series.
Usually, Gold Run charges a $25 Fat Bike trail use fee for access to Blue Moon, Hoochinoo, Stardust and Midas Touch.
Access to the trail network is FREE on race day.
If you're an avid Fat Biker, and would like unrestricted access, please consider a Season Trail Pass, available to Fat Bikers, for $150.
RENTALS are available for $15/hour or $30 for a Half Day.
All bikes are the Borealis Crestone model and there are a couple of Junior models too!
Facilities-for safety sake, please refrain from entering the Gold Run Nordic Center Lodge unless absolutely necessary and/or you are purchasing something. Port-o-let facilities have been added for your convenience and to keep gathering sizes inside to a minimum.
REGISTRATION, DIRECTIONS, START TIME
REGISTRATION:
ENTRY FEES:(includes Gold Run Trail Pass!)
$20 for single race
All Registration is online at Bikereg.com
SERIES POINTS
It is not necessary to be signed up for the "Series" in order to race and score points toward the Overall. Everybody who races scores points!
CATEGORIES:
Women (all ages, one category)
Men 35 and Under
Men 36-49
Men 50+
DIRECTIONS/LOCATION:
The Gold Run Nordic Center is located at 200 Clubhouse Drive, Breckenridge, CO 80424
(In the summer this is the Breckenridge Golf Club!)

START TIME/TIMELINE:
No set start time!
Racers will have the entire day, during daylight hours, to ride the marked course.
For time to be valid, racers must complete the course and upload activity to Strava with a December 19 Timestamp.
COURSE MAP & DESCRIPTION& WESTY's COURSE REPORT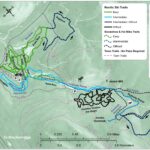 Course layouts will change race to race.
Course Description will be posted the Wednesday prior to each race.
Course Map will be posted on Thursday evening prior to each race.
Courses are subject to change depending on conditions.
RACE #4-JANUARY 30
This FINAL race will be ONE BIG SEGMENT; no breaks or "transfers".
The first 3 races were more like smaller tests or quizzes.
This race is the FINAL EXAM!
TOTAL DISTANCE will be right around 10 MILES
Course Map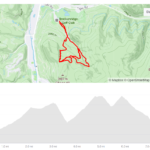 Link to map on Strava:
Fat Bike Race #4
The overall design and shape will be like a 3-leaf clover. The clover leaves are distinct loops and the stem is basically Gold Run Road
You will ride the "stem" (Gold Run Road) in shorter sections AND more than once
Loops will be signed "LOOP 1", "LOOP 2", "LOOP 3".
Loops must be ridden in the correct order for accurate Strava matching/scoring
From the clubhouse follow sign for Midas Touch
Ride around Frozen Pond and up onto level grade
"Start Segment" sign is just ahead

Turn LEFT onto Midas Touch and ride the southern leg outbound (same direction as in Races #1, #2, and #3)

Leave Midas Touch, bearing right onto Peabody Placer

Cross a paved section of Gold Run Road and continue on Peabody Placer for approx. 150 yards

Leave Peabody Placer, bearing right onto Gold Run Road (dirt portion)

Climb approx. 1.2 miles to Extension Mill Road (GH25)

Look for LOOP 1 sign

Turn left following the sign for LOOP 1

Climb short distance and turn left onto Dry Gulch Trail

Ride out to, and through, Dry Gulch proper

Descend Dry Gulch back to Gold Run Road

Turn LEFT onto Gold Run Road and re-ride this section

Climb approx. 1.2 miles to the top following sign for LOOP 2

At top of climb Look for LOOP 2 and LOOP 3 signs

Turn LEFT onto Fall Classic, following the LOOP 2 sign

Take Fall Classic to Hard Luck Trail

Descend upper part of Hard Luck Trail (yes to those whoops and tabletops!)

LEFT onto Dry Gulch Trail-(short piece that you did not ride earlier so no worries about two-way traffic with other racers)

Take Dry Gulch Trail approx. 75 yards and merge onto Gold Run Road

Re-climb top portion of Gold Run Road approx .4 miles back to the top

Once at the top this time, turn right, following sign for LOOP 3, and descend Slalom.

At bottom of Slalom, turn right onto Upper Flume

At intersection with Middle Flume turn LEFT and descend

We will use the old Middle Flume alignment as we did in Race #2; the one that is more fall line oriented

Turn right onto Tom's Baby

At bottom of Tom's Baby ride through parking area
Be cool going through parking lot…it may be busy
Turn left onto Peabody Placer and descend(Same as in Races #1 and #2)
Cross the paved portion of Gold Run Road
Take Peabody Placer to Midas Touch and ride the northern leg inbound
Ride Midas Touch to finish
Finish will be at same location as Start Segment sign WESTY's COURSE REPORT-1/28/2021
I started riding at 2:00pm today. Temps were really pleasant; mid 40's.
Perfect tire pressure at 7psi front/7.5 psi rear. Maxxis Tires (sorry don't know the model), 4.5″ wide on 27.5 wheels.
In the spirit, of full disclosure I discovered that the pump I've been using reads a pound light. So what I thought was 6psi was 7 in the first couple of races.
Overall I liked the repeat climbs on Gold Run Road because they are smaller chunks. That said, I was feeling it at the top of the final climb!
The Dry Gulch descent is firm.
Hard Luck Trail had some soft corners so I went out after my ride and did some snowshoe compaction. It should set up nicely!
Slalom not as soft as Hard Luck but still had some soft spots which I hope to hit tomorrow.
The course rode well

Couple of people LAST week went around the big drop on Hard Luck and still got a solid Strava match. That's good.
That said, it's best for the track if racers ride the drop. To go around requires that you brake on the section leading to the table top and it chews up the track. Is it a big deal if you go around? Absolutely not! By all means do what you need to do to be safe and ride within your ability.

Here are three pointers to help you negotiate it:

A little speed coming up onto the Table is needed then try roll it without hesitation…overthinking can be counterproductive at this moment in the course!
Brakes-feather them them to KEEP TIRES ROLLING instead of locking them up. Locking up the tires will lead to a power slide and less control.
The berm at the exit of the feature is perfect for negotiating that next righthand turn. Use it and you will be rewarded!

If you have to pitch it, and this goes for anywhere on the course, remember that snow is soft!
Have fun and thanks for racing!