August 11, 2021
VENUE TO BE DETERMINED
REGISTRATION/NUMBER PICKUP
Number Plate Pick-up begins at 4:00pm
ENTRY FEES

Single Race Entry Fee for races #1-6
$30 Adults Pre-Registered/$35 for day-of registration
$25 for Strava Men and Women 19+
$20 Juniors (even if "Racing Up" into an Adult category)
Single Race #7 The Fall Classic, includes Post Race Meal
$50 Adults
$30 Juniors (even if "Racing up" into an Adult category)
ONLINE REGISTRATION-CLICK THE BIKEREG LOGO
Pre-register online until 6:00pm the night before each race. Strava categories will remain open until Wednesday race days at noon.
DAY-OF RACE REGISTRATION OPTION
Register on Race Day for $35 beginning at 8:00am by using this Google Form. You can register via your smart phone or computer. If you use this option YOU WILL STILL NEED TO PAY ONSITE AND PICK UP YOUR NUMBER.
Simply fill out your info electronically, either ahead of time or on-site, and go directly to the Day-of Registration Line to process payment and receive your number plate.
We accept Cash, Checks and Credit Cards.
COURSE DESCRIPTION and TRANSFER DIRECTIONS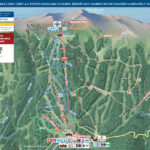 Stage 1 Description (2.2 Miles)
Start at the Vista Haus
Upper Dwight's to Game Trail
Finish in the cul-de-sac just uphill of Ski Watch Condos
TO GET BACK TO THE LIFT TO TRANSFER to STAGE 2 START:
Ride down Skiwatch Drive to stop sign.
Turn right onto Ski Hill Road
Look for Gondola Terminal…you can't miss it.
Look for staircase on right side of Terminal
Hike Staircase to plaza level
Walk bike to base of Colorado SuperChair
LIFT TRANSFER back to the same start for Stage 2
Stage 2 Description (2.8 Miles)
Start at Vista Haus
Service Road
Frosty's Challenge
Wanderer
Wagon Trail (not on map)
Finish next to Pumphouse #5 near base of C Chair and just uphill of the BOEC Ropes course.
After finishing, continue downhill on Sawmill Trail to base of the Snowflake Lift. From there continue downhill on Four O'Clock Road to town.
PARTY AT ROCKY MOUNTAIN UNDERGROUND
ALL SUMMIT MOUNTAIN CHALLENGE EVENTS
Not sure which category?
Category Guide